Bush Reese & Company, Inc. has gained design experience with all of the most common framing systems during the nearly fifty years of practice in structural design of buildings. The following is a brief description of our experience with the various construction materials.
Conventional Wood Construction: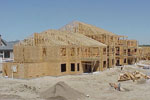 The firm has extensive experience in conventional wood framed systems primary in the multi-family housing sector but also in custom single-family residences as well as small retail and office buildings. This includes engineered wood products such as plywood web joists, laminated veneer lumber, plated roof and floor trusses, oriented strand board, parallel strand beams and posts.
Heavy Timber Construction:
We have completed design of dozens of projects with heavy timber construction including solid sawn beams and purlins, custom heavy timber trusses, arches and frames, glue laminated beams and solid T & G decking. Most of our design projects utilizing this type of construction have been churches and restaurants.
Steel Construction: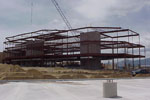 The firm has completed many warehouses, distribution centers, and retail centers that have integrated open web steel truss joist and girders for the roof framing systems. Our experience also includes wide flange beam and purlin systems, custom steel long span trusses, rigid frames, braced frames and arches.
Composite Steel Construction:
Many of the office buildings designed by our firm have used composite steel wide flange beams, purlins and composite concrete decks. We have also incorporated composite open web trusses into some of our designs as well.
Cold Formed Light Gage Steel Construction: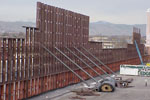 This framing system has been successfully used in the firm's design of bank, retail, office and hospitality buildings. The largest project design by Bush Reese and Company, Inc. with this framing scheme has been a four-story hotel and casino.
Reinforced Concrete Construction: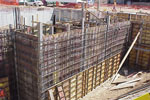 Several of the office buildings, schools, jails and concert hall buildings designed by Bush Reese & Company have incorporated conventionally reinforced framing. The faming schemes used in this construction have been two-way flat plates, one-way slabs with drop beams, pan joists and beams, concrete shear walls and moment frames.
Prestressed Concrete Construction: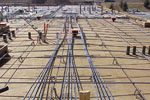 Bush Reese & Company, Inc. has design hundreds of building utilizing both pre-tensioned and post-tensioned concrete. These framing schemes have included two way flat plates; one-way slabs with drop beams, pre-cast double tees and beams and hollow core slabs. Most of the buildings with this construction type have been warehouse, retail, office, hotel, condominium, garage and school buildings.
Tilt-up Concrete Construction: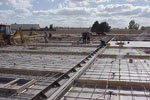 The firm has designed hundreds of warehouse, distribution centers, office and medical buildings with tilt-up load bearing walls and spandrel panels.
Reinforced Masonry:
We have experience designing concrete block, multi-wythe brick, and structural jumbo brick wall systems. We have also designed reinforced masonry beams, arches and columns. Many of our retail, school, church, office, medical and flex building have utilized reinforced masonry wall systems.
Foundation Systems: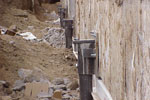 Bush Reese and Company, Inc. has designed a variety of foundation systems for their structures. Foundation systems have included, conventionally and pre-stressed mats, post-tensioned slabs on grade, spread footings, drilled caissons and grade beams, driven steel piles, friction piers, belled piers, helical piers and ribbed slabs.